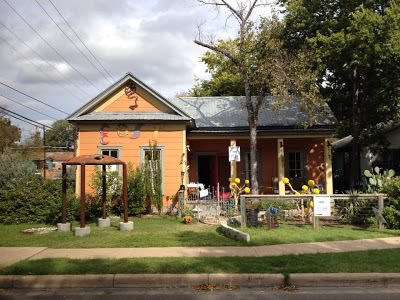 Photo Credit: ©2013 Norman Hera Fisterra Studio, Austin, Texas
It's that rare time of year in Austin where artists open their studios and invite you in to browse, chat, collect art, eat, drink and wander through their vibrant world of art-making. I am not a participating artist in the
this year, but as a regular EAST-goer, friends frequently ask me for recommendations on studios and spaces to visit. So, I've put together a list to get you started. I like to go to spaces with more than one studio to satisfy my need for discovery of something new. While you're visiting a space, always ask the artists to recommend other artists' studios who may not have this level of exposure and you'll be surprised what you find. Support your local arts community and go out for a few hours, a day, or longer, just fall right in and go for a uniquely Austin experience. It's expensive for artists to live and work in East Austin, collect some art, tell your friends to collect some art, wheel and deal, have a ball :-).
Here's a link to the map
(also the Chronicle has a printed version right now if you did not get a catalog).
Here's my EAST list. These stops are all fairly close together:
Stop #89
1200 E 2nd: I usually start at the heart of EAST at Jennifer Chenoweth's Fisterra Studio. As a previous guest artist there, I can tell you that she always has a good group of artists, great homemade posole, music and dancing. This year, friend and photographer
Norman Hera came all the way in from Germany to show his work, definitely someone you should see.
Stop #49
5305 Bolm Rd: What a gold mine of artist studios, always a good place to spend some time.
Stop #53
702 Shady Lane: Lots of artist friends have studios there and they have a beautiful gallery with a big ass fan. There are a number of other studios within walking distance too.
Stop #151
613 Allen St: Always cutting edge work and interesting shows.
Stop #57
916 Springdale Rd: I have not been here yet myself as "Canopy", but cannot wait to see both this EAST hub show featuring a work by each artist participating in EAST, and how this beautiful space has been transformed over the past year. Not far from Pump and Big Medium.
Stop #158
4704 E Cesar Chavez: Fantastic artist studios, lots of artists to visit.
Stop #131
2326 E Cesar Chavez Rd: Another high energy hive of artists.
Stop #113
301 Chicon, studio G: This is a new one to me also. Artist friend and coworker
is showing his work along with a number of other multi-media artists.
If you get hungry and are gluten-free
on 4th/Pleasant Valley is a safe bet. Thirsty? Get a drink at the
on 5th/Comal - used to be the Tejano nightclub back in the day.
There are so many great places to visit, this list was tough to narrow down and I'm certain I've left out a bunch of good ones - wish I could see them all! Wherever you end up, you won't be disappointed. Parking is easy enough to find and free, just be mindful of the residents who live there. Or, bring your bike, park at the lake and get some chilly exercise while you're at it.
The hours for all studios are 11A-6P both this Saturday and Sunday 11/23-24. Hope to see you out and about, be sure to bring your woolies :-) AP